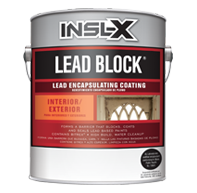 Lead Block®
EC-3210
Lead Block is a water-based elastomeric acrylic coating with excellent adhesion, elongation, and tensile strength characteristics. When applied to surfaces bearing lead-containing paint, this product will seal in the lead paint with a thick, elastic membrane sheathing.
A cost-effective alternative to lead paint remediation
Creates a barrier over lead paints
For interior or exterior use
Easy application with brush, roller, or spray
Can be used as a primer or top coat
Attractive eggshell finish
Available Sheens: Eggshell
Available Colors: White
Cleanup: Soap and water
Resin Type: Acrylic
Recommended Use: Interior or exterior
MPI Rating: N/A
VOC Level: < 100 g/L
Check with your local INSL-X DEALER for product availability.